Image: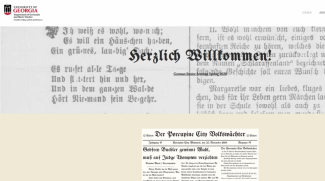 by Katherine Hoovestol
Due to the shift to distance learning, this semester's German Senior Seminar chose to forego a traditional poster presentation in lieu of an online, multi-media collaboration inspired by this year's seminar topic, the German American experience. Taught by Dr. Joshua Bousquette, this year's senior class created an issue of Der Porcupine City Volkswächter, the local newspaper featured in Julius Gugler's 1892 play, "For Mayor Godfrey Buehler."
"The newspaper project provided an opportunity for students to work remotely and collaboratively on a product that could be shared virtually," said Dr. Bousquette. "Anchored in our longest text, "For Mayor Godfrey Buehler", the project also allowed students to engage with the course's central themes, such as identity and language use, in a way that was both academic and creative."
The students each wrote or co-wrote an article, and many worked on separate teams as section editors, linguistic editors, layout editors, and advertising/comics editors. Junior Sarah Ohlmeier served as a linguistics editor for the project, editing the student articles to make sure the linguistics and structure fit with 1889 publication date.
"It was great working as a team with my classmates and seeing everyone get creative in their articles and ads," said Ohlmeier. "I enjoyed editing linguistics because it made the articles seem more authentic to the time period…I think we did our best to use what we read in the text to make it as realistic as possible."
For other students, this was their last course in their undergraduate program of study. Senior Ellie McQuaig, who served as one of two lead editors, appreciated the opportunity to combine multiple areas of study with her German coursework.
"Though I haven't done any journalism or graphic design in college, I did a lot in high school and was glad to be able to use those skills again," said McQuaig. "I think that it [the newspaper] was a great way for us to show our reading and understanding of "For Mayor Godfrey Buehler", our skills as writers in German, and for several of us, our skills as artists or designers."
Ultimately, despite the circumstances, the newspaper served as an opportunity for the students to come together and create one last project honoring their coursework in German, before many of them graduated and moved on from the University of Georgia.
"The final product is undoubtedly a fitting tribute to both the literary work and the contemporary history of 19th century German Wisconsin," said Dr. Bousquette. "But what isn't apparent from reading the Volkswächter is the efficiency and professionalism that went into its creation, and I was very impressed by how professional and reliable students showed themselves to be while working in a collaborative setting. I wish them all the best, and I expect they will find success in their next endeavors."