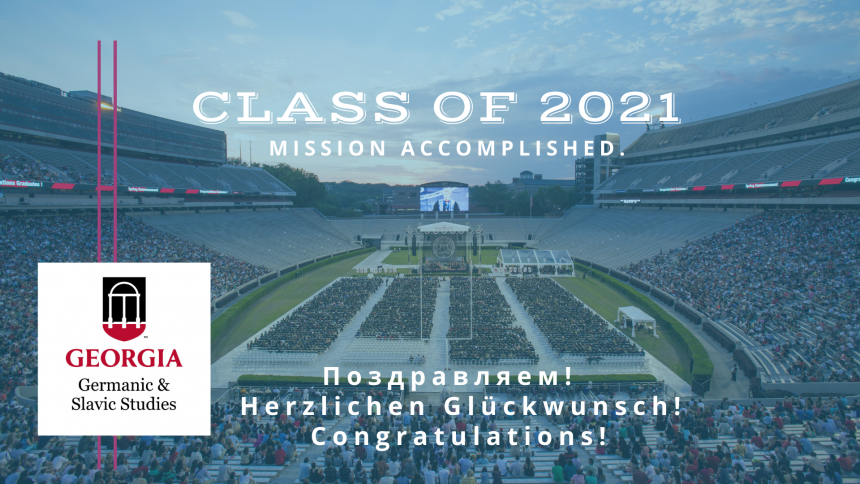 "Learning another language is critical for (problem solving), as you train your brain to communicate under a different set of rules." Davis Jackson, class of 2020
 
What can you do with a German degree?
See what impressive career trajectories that alumni from the undergraduate and graduate degree programs in the Department of Germanic & Slavic Studies are experiencing. Employers value humanities degrees -- especially in languages and seek employees with a global perspective, nuanced intercultural competence, the ability think critically and rationally, and of course, those who can write well.
If you are an alum, and are interested in being featured, please tell us what you've been doing!  Check out a few recent graduates and the amazing work and academic studies they are pursuing!
Emily Lembcke  
A.B. German, B.S. Mechanical Engineering (2020)
M.S. Program in Aerospace Engineering at Georgia Tech,     Graduate Research Assistant
Emily plans to pursue a Ph.D in Aerospace Engineering.
How did your German studies prepare you for your plans after graduation? As a result of my internship with the Fraunhofer Institute ICT NAS department, I discovered my passion for working a research environment which helped prepare me for such environments at Georgia Tech. I think my German studies have enabled me to be a much more flexible thinker, as I also worked in teams with people from other projects and departments. 
First experiences with German:  When I was a child, I briefly attended a German school in Atlanta because my dad was German, but I never ended up absorbing much German, besides a few phrases. I truly began learning German in 2015 in my first semester at UGA. 
 A Study Abroad Experience/Anecdote:  I participated at The Dual Degree Engineering-German study abroad program:  I remember being stranded in Köln with some of my fellow Dual Degree students and our friends from the Goethe School in Bonn because an undetonated WW2 shell had been found and all of the public transportation had been shut down. We spent much of the day touring the city and then were planning to return to Bonn just as the public transportation was being shut down. Later, the trains began running again so we were still able to make it home, but it was a really fun day overall with an incredibly memorable ending. 
 A memorable German studies moment: A fun moment was when Dr. Rossbacher showed us the film This Ain't California in her The Wall course. The film itself was amazing and the conversations we had as a result in class have inspired me to tell my friends about this film.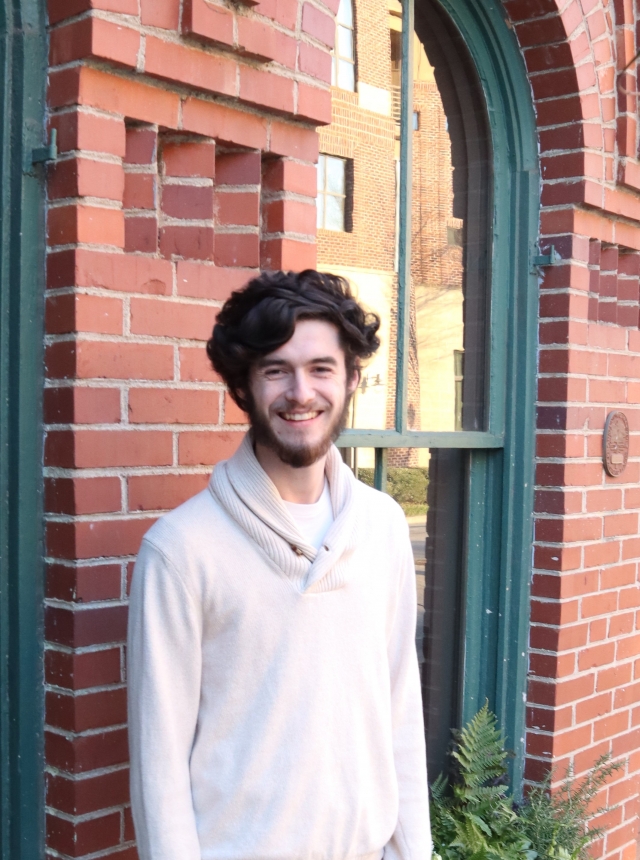 Davis Jackson  
A.B. German, B.S. Statistics (2020)
Information Analyst, Daugherty Business Solutions, Atlanta
How did your German studies prepare you for your plans after graduation?     Learning to communicate in a new language is an important skill for any job. An important skill of a good Analyst and a good Consultant is being able to explain both problems and solutions to people who aren't familiar with the methods or languages needed to express them fully. You need to be able to translate the technical, specific understanding you have into a language that the person you're talking to can understand, and even contribute to. Learning another language is critical for this, as you train your brain to communicate under a different set of rules. 
First experiences with German: I started learning German my freshman year of college, 2016
 A Study Abroad Experience/Anecdote:   I went on Dr. Crawford's Freiburg study abroad in Summer 2018. Lots of great memories: Going to Interlaken with a group of 10 and spending a day out on the lake, then cramming into one AirBNB :)  My study abroad experience gave me a lot of confidence in speaking German, which even though I wasn't the most proficient I really needed the confidence. You can't get any better if you're too scared to try. 
A memorable German class moment: Definitely would have to be creating a 40-minute interpretative dance recreation of (the German novel) Tschick. 
Katie Kish
A.B. German, B.S. MIS and International Business (2020)
Professional Development Program in Analytics, UNUM Group, Chattanooga, Tennessee
Katie was accepted into a competitive training and mentorship program at Unum Group, a Fortune 500 insurance company with an international presence and award-winning workplace notable for inclusion, diversity, and women in management.
How did your German studies prepare you for your plans after graduation?    My German courses not only provided me with an excellent foundation in the German language, but they also provided me with a unique global perspective and understanding of German culture. This knowledge will be useful in my future pursuits as I will likely either be working or going to graduate school abroad within the next few years.    
First experiences with German:   I first started learning German in 6th grade.
A Study Abroad Experience/Anecdote:   At the Terry College Summer Study Abroad at Oxford, two of my favorite memories were the Monday night formal dinners with Oxford professors, and the opportunities to travel to other countries on the weekends. Although my study abroad did not take place in Germany, it helped me with my studies because it broadened my global perspective. Taking courses in International Conflict and International Strategic Management made me realize that in today's world, it is so important for countries to work together while also working to understand and embrace cultural differences. My abroad experience sparked my desire to live in Germany one day.
A memorable German class moment:   After class one Friday, I went to Jittery Joe's with two other people from my first-ever freshman-year German class, and we spent the entirety of the afternoon speaking in German. It felt great to be able to communicate with people in a different language. That was the day I realized that I wanted to pursue German.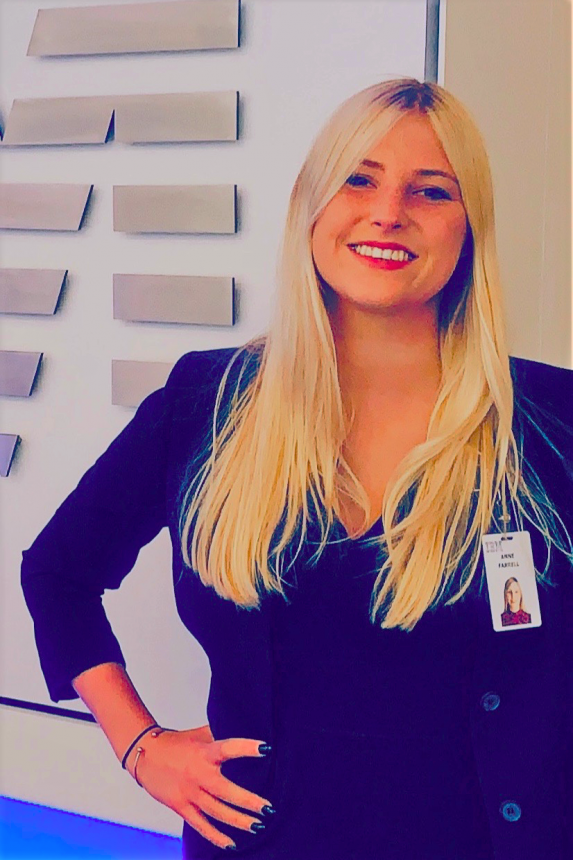 Anne Farrell
 A.B. German (2020)
Global Digital Sales, IBM, Atlanta
Before graduating in May 2020, and during a global pandemic and economic downturn, Anne received a job offer from the international technology and consulting company, IBM. In Anne's own words, "I was not a business major or an engineering major, which is who they usually hire. I am proud to be a German major."
How did your German studies prepare you for your plans after graduation? I think my German classes helped  teach me about diversity, and how politics and law in other countries are different, and how our country can benefit from such differing views. Something I really took away from the German program at UGA that will help me with my job is "diversity and acceptance," which is valued by my company.
I will be doing digital sales for IBM in Atlanta. I am so thankful and proud to have studied German at the University of Georgia; this will benefit me for the rest of my life! I can only hope to be able to move to Germany one day in the future and do business in German, and I know I will keep my German language and cultural skills for the rest of my life!
First experiences with German: I first started learning German when I was five-years-old in kindergarten.
A Study Abroad Experience/Anecdote: I went on the Freiburg, Germany study abroad in summer 2017 as well as an exchange semester at Vienna University Economics and Business for three months in fall 2019. My favorite memory from the Freiburg trip was when me and my friend Shoshana took the train to Switzerland.
A memorable German class moment : A fun moment that I had with Germanic & Slavic Studies at UGA was when we had the Oktoberfest in the front lawn my senior year. I even brought my friends who did not know any German and we just had a really good time kicking the soccer ball with German students and eating German food and showing them a little bit of what the German program is like!  
Emily Gauld
A.B. German, A.B. Music, (2010), M.A. German (2014) 
Ph.D Program, Germanic Languages and Literatures University of Michigan, Graduate Student Instructor
Emily's dissertation titled "Composing the Musicking Woman: Gender and Nation in the Works of Johanna Kinkel" investigates how 19th-century women represented female identity and subjectivity in music and literature.
How did your German studies prepare you for your plans after graduation?  Since I decided to pursue a PhD in German Studies, the connections can seem pretty obvious--doing both a BA and MA in German at UGA quite literally set the foundation for my current career. But it was also my experiences in the German department and the opportunities it offered that fostered my interest in studying German language and culture, and motivated me to continue along this path. 
Can you describe what your PhD research is and how it relates to work you began at UGA?  At UGA, I was able to focus on my interests in the intersections of music and literature, taking an independent study on Thomas Mann and Wagner, writing research papers on topics such as Mozart's Die Zauberflöte, and completing music theory courses to complement my work in the German department. Setting this groundwork at UGA, enabled me to continuing pursuing questions about aesthetic representations of Germanness through a feminist lens in my PhD research. 
First experiences with German:  My very first German class was as a sophomore in high school, 15- or 16-years-old.
A Study Abroad Experience/Anecdote:  I did an exchange year at Universität Zürich during my BA, and after I graduated I did a Fulbright ETA (and stayed for a second year through the Pädagogischer Austauschdienst). I made amazing friends in Zürich who I still see regularly (we just had a reunion in 2019!), I was a double major in music and I got to take lessons with a member of the Zürich opera orchestra, I got involved in the exchange student program at the university, which offered opportunities such as weekend trips to other countries and bungee jumping! During my Fulbright in Germany, I joined a Musikverein which was an awesome experience. I made more lifelong friends and did a lot of traveling within Germany for those two years as well. 
How did German and your study abroad experiences help you in your studies in general?  They not only helped determine my future interest in the German language and studying German history and culture, but spending time abroad helped my language skills, improved my general confidence in my own abilities, and helped build problem-solving skills that I continue to use both inside and outside the classroom.
A memorable German studies moment in Joe Brown Hall:  One Joe Brown memory I'll never forget was performing with Alex Sager and Martin Kagel for our 20th anniversary of the fall of the Berlin Wall event back in 2009. I played horn and they sang/played guitar. I can't remember what the song was, but there is a video of it out there somewhere on the internet!
Robert Klosinski
M.A. German, (2017) 
Ph.D. Program, German Linguistics and Language Science, Penn State University