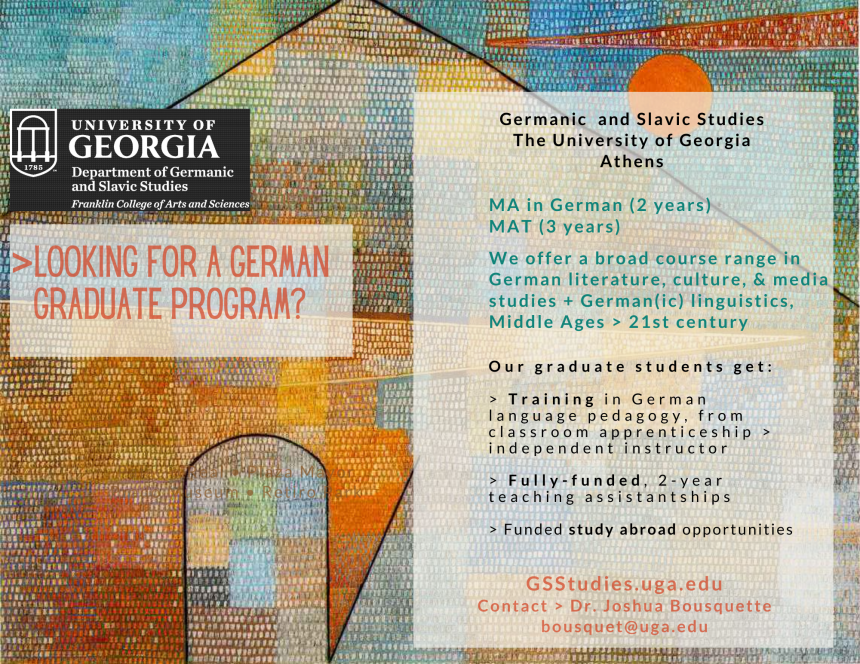 The MA Degree in German offers two degree tracks
Literature - students must take at least one course in Literature or Film
Linguistics - students must take at least one course in Linguistics





Students and faculty mingle on North Campus in front of Joe Brown Hall, home to the University of Georgia's Department of Germanic & Slavic Studies

 
MA Degree in German
Students who write an MA thesis conduct more independent research and take fewer courses in their final semester; rather, they take an independent study with their MA committee chair.
MA Degree in German, Non-Thesis
Non-thesis students take a full load of courses throughout their four semesters of study, completing their degree with a portfolio of materials from their coursework and/or teaching, along with a 6-8 page critical reflective essay written in consultation with the student's major professor.
View more about MA Degree Non-Thesis

Dual Degree A.B./M.A. in German ("Double Dawgs")
Germanic & Slavic Studies' Double Dawgs creates a path where top undergraduates with highly developed skills in the German language and in cultural competency can accelerate their course of study, beginning graduate coursework in their fourth undergraduate year.
Dual Degree M.A./M.A.T. in German and World Language Education
The dual degree program combines an M.A.T. degree in World Language Education and an M.A. degree in German into a single and integrated program of study. The program prepares students comprehensively for K-12 foreign language teaching while increasing their intercultural competence, language proficiency and their understanding of educational theories and approaches with regard to their application in the classroom. The program also provides graduate students the opportunity to obtain the Graduate School Interdisciplinary Certificate in University Teaching.
View more about MA/MAT Dual Degree