Russian Major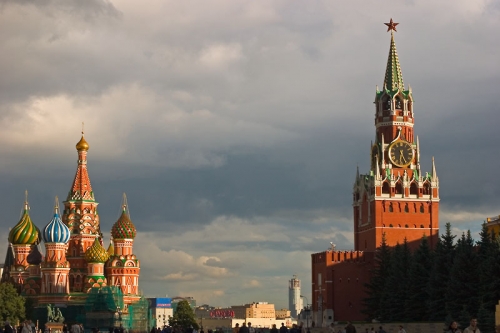 The Russian major is intended to help you develop advanced language proficiency and acquire a deep understanding of Russian culture. The requirements are designed to allow you flexibility in pursuing your own interests (including study of related Slavic languages/cultures, if desired). Students often combine a Russian major with a second major in a related field, such as International Affairs, History, Linguistics, etc. Russian study can easily be combined with virtually any other major and will expand your future career opportunities.
For more information, see: What can I do with a major in Russian?
Requirements
Core Area VI (Courses related to the major)
RUSS 2001 Intermediate Russian I
RUSS 2002 Intermediate Russian II
LING 2100 The Study of Language
(The RUSS 2001 and 2002 requirements will be waived for students who place at a higher level.)
Core Area VI also requires 9 additional hours preferably taken from the following areas: Additional Foreign Language, ANTH, ARGD, ARHI, ARID, ARST, ARTS, CMLT, COMM, DRAM, ECON, GEOG, HIST (world), LING, MUSI, PHIL, POLS, WMST. However, most students already have courses that can fill this requirement and do not need to take any additional courses specifically for Core Area VI.
Major requirements (8 courses/24 hours)
Three required courses:
RUSS 3001 Russian Conv. and Comp. I
RUSS 3002 Russian Conv. and Comp. II
RUSS 4520 Contemporary Russian Culture
(Students who place out of RUSS 3001 and 3002 may substitute any 3000/4000-level course taught in Russian for these two courses.)
Three courses chosen from the following list:
RUSS 3100 Approaches to Russian-English Translation
RUSS 3200 Russian Culture to 1917
RUSS 4250 Pushkin
RUSS 4260 Masterpieces of 19th-Century Russian Literature 
RUSS 4270 Masterpieces of 20th-Century Russian Literature 
RUSS 4280 Chekhov
RUSS 4290 Politically Incorrect: Contemporary Russian Literature, Art, and Cinema
Maximum of one directed study course (RUSS 3990, 4960H, 4970H, or 4990H)
Plus any two RUSS or SLAV courses at the 3000- or 4000-level
A complete list of courses is available here.
Special Requirements
Students must earn a minimum grade of C in each course to receive credit toward the major. 
All upper-division courses fulfilling the major requirements must be taken in residence with the exception of a maximum possible 9 hours of transfer credit. Upper-division transfer credit from a non-UGA study abroad program may be applied to the major, subject to approval by the department, and provided that credit for RUSS 2002 (or an equivalent course) was earned before participation in the program.
Entrance Requirements
RUSS 2002 is the prerequisite for upper-division courses.
For more information, please contact Cecilia Reynolds (706.540.1412).
For questions about course placement, please contact Prof. Sasha Spektor (706.542.3663).