Image: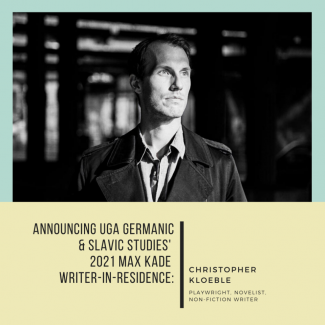 Dr. Alex Sager, department head of Germanic & Slavic Studies at the University of Georgia, announced that writer Christopher Koleble has accepted the department's invitation to serve as Max Kade Writer-in-Residence in 2021.
Kloebel's first novel, Among Loners, received the Jürgen Ponto Stiftung Prize for best debut novel in 2008. His second novel, A Knock at the Door, appeared in 2009, and his third, Almost Everything Very Fast, was translated into English (Graywolf Press, 2016).
His film script Inclusion was nominated for the Prix Europa in 2012 for Best Movie Script, and his 2016 book The Shadows of the Salz Family appeared in 2016 in Germany (dtv). Kloeble also has written plays, U Turn and Memory that have been staged in Vienna, Munich, Heidelberg and Nuremberg. Home Made in India is his first non-fiction book and was published in 2017. Kloeble's most recent novel, Das Museum der Welt, will be published in German in 2020 with dtv.
To learn more about Christopher Kloeble and his works, visit his personal website.