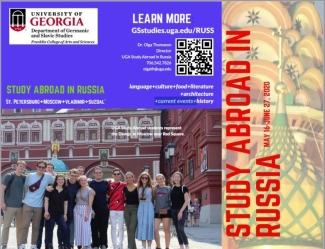 Germanic & Slavic Studies
University of Georgia, Franklin College of Arts & Sciences
Joe Brown Hall 117
Faculty-led Study Abroad session in summer 2020.
From Medieval to Modern: Students stay three weeks each in European St. Petersburg, Russia's cultural heart, and in cosmopolitan Moscow, its political and economic center.
Experiential Learning: Performances, workshops, architectural sites, cultural events bring classroom ideas and concepts to life.
At the Info Session on November 11 at 4 pm, come and learn about courses, accommodations, and activities. Ask your questions.