Introduction to Russian Cinema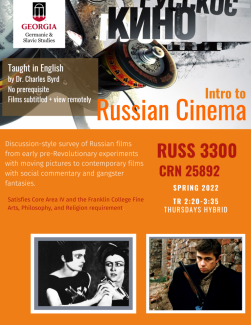 A survey of the major periods, genres, and directors of the extensive Russian and Soviet cinematographic heritage, with particular attention to the immediate influence of historical, political, and cultural developments, questions of cultural identity, and the making of a national tradition. Regular in-class viewing and discussion of films. The class is conducted in English and all films will be shown with English subtitles.
Satisfies Core Area IV (World Languages and Culture) and the Franklin College Fine Arts/Philosophy/Religion requirement.