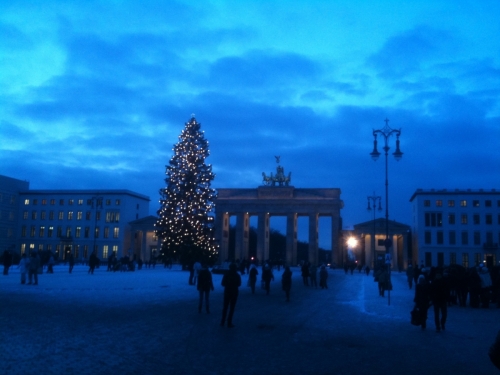 Brandenburg Gate (Keith Langston)
German Studies Major
The German Studies major is designed to provide students with communicative proficiency in the German language and competency in the interpretation of German culture. Following the completion of basic requirements, the program offers optimal flexibility to the individual student who can choose from a variety of courses and, under the guidance of a faculty mentor, devise a curriculum geared towards his or her specific career goals and intellectual interests. The department is comprised of specialists in the major areas of German Studies who integrate language teaching with the teaching of German literature, linguistics, film, and culture studies as well as important aspects of contemporary German society, business, and politics.
A major in German Studies with its twofold emphasis on linguistic proficiency and cultural competency is excellent preparation for a variety of professional careers in business, government, and academia. The comparatively small size of the department allows faculty members to pay close attention to the individual student, to help students advance in their studies, and to guide them in the pursuit of their professional career choices. Whether you are interested in a career in business, foreign service, or law, or if you are looking to become a teacher in primary or secondary education, or to pursue German as an academic subject in graduate school, there are numerous ways in which you could apply your knowledge of German to the profession of your choice.
Students often choose double-majors, combining their study of German with a second field such as International Business, Finance, International Affairs, Sociology, Art History, or Education. Many of our majors move on to work in various capacities for American companies that do business with Germany, or for companies based in German-speaking countries that have subsidiaries in the U.S. Knowledge of German not only helps graduates to get a job, but often is a significant factor in professional advancement. In many high-tech companies (in automotive engineering, optics, medical instrumentation, etc.) proficiency in German is highly desired.
For more information, see: What can I do with a major in German?
Requirements
Core Area VI (Courses related to the major)
GRMN 2001 Intermediate German I
GRMN 2002 Intermediate German II
GRMN 2300 Introduction to German Culture Studies
LING 2100 or 2100H The Study of Language
(GRMN 2140H may be substituted for GRMN 2001-2002. The German 2001-2002 requirement will be waived for students who place beyond this level.)
Core Area VI also requires 6 additional hours preferably taken from the following areas: Additional Foreign Language, ANTH, ARGD, ARHI, ARID, ARST, ARTS, CMLT, COMM, DRAM, ECON, GEOG, HIST (world), LING, MUSI, PHIL, POLS, WMST. However, most students already have courses that can fill this requirement and do not need to take any additional courses specifically for Core Area VI.
Major Requirements (8 courses/24 hours)
Three required courses:
GRMN 3010 Language: Culture and Society I or GRMN 3015 Language: Engineering and Science
GRMN 3020 Language: Culture and Society II
GRMN 4520 Senior Seminar
(Students who place beyond GRMN 3010/3015 or GRMN 3020 can substitute any other 3000/4000-level GRMN courses taught in German.)
Plus 5 3000/4000-level GRMN electives (15 hours).
The GRMN elective courses may include no more than one directed study course and one GRMN course taught in English translation (courses taught in English are those with no GRMN prerequisites). In addition, GRMN 3500 German for Reading Knowledge may not be counted as an elective for the German major; this course is intended for students with no previous study of German (primarily for graduate students to fulfill a research skills requirement).
Entrance Requirements
GRMN 2002 (or 2140H) is the prerequisite for 3010 and 3015, and most other upper-division courses taught in German have 3010 or 3015 as a prerequisite.
Special Requirements
Students must earn a minimum grade of C in each course to receive credit toward the major. 
All upper-division courses fulfilling the major requirements must be taken in residence with the exception of a maximum possible 9 hours of transfer credit. Upper-division transfer credit from a non-UGA study abroad program may be applied to the major, subject to approval by the department, and provided that credit for GRMN 2002 (or an equivalent course) was earned before participation in the program.
For more information or for questions regarding specific requirements, please contact Dr. Brigitte Rossbacher.
Students with high-school study of German should take the German placement exam. For questions about placement, contact Dr. Katie Chapman.