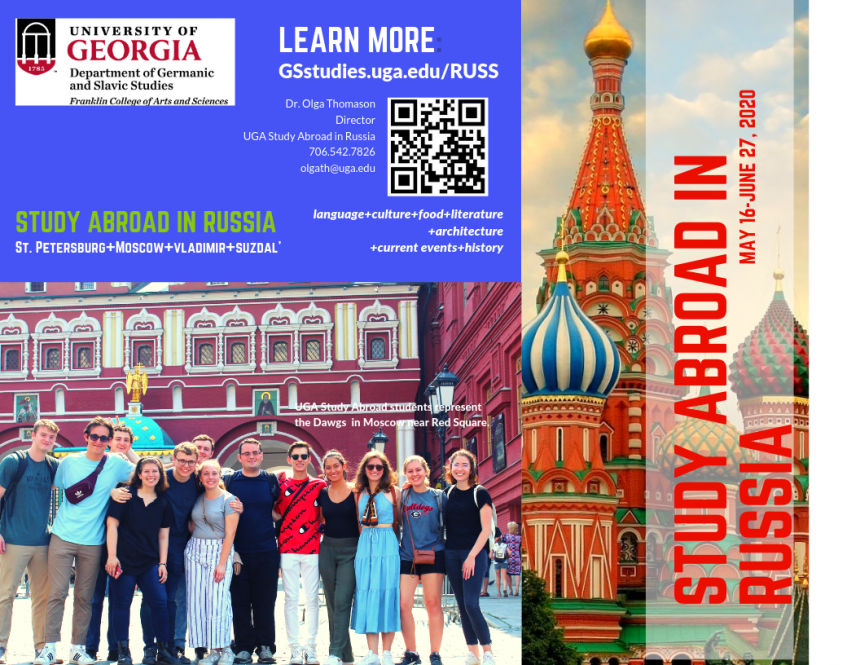 Students on the 2019 UGA Russia Study Abroad Program.
UGA Study Abroad in Russia
Due to the current political climate in Russia, we will not be offering study abroad programs in Russia for the foreseeable future. However, please reach out to Dr. Olga Thomason for other potential study aboard opportunities with the Russian Department. 
Experience it for yourself. From Medieval to Modern, this 6-week summer study abroad program in Russia gives students an experiential learning adventure that is transformative.! You'll get an understanding of the European side of Russia with three weeks in St. Petersburg, Russia's cultural capital. And three weeks in Moscow, Russia's official capital and a major political, economic, cultural, and scientific center offers a look at modern-day Russian life and culture.
Students have an excellent opportunity to earn 9 credit hours (or 11 credit hours for beginners) while studying  Russian language and culture and experiencing Russian culture firsthand. Our academic partners are leading universities in Russia: the Herzen State Pedagogical University in St. Petersburg and Moscow State University. Students of ALL skill levels are welcome to apply: from beginners who have no previous knowledge of the Russian language to advanced students who have taken elementary or intermediate Russian courses.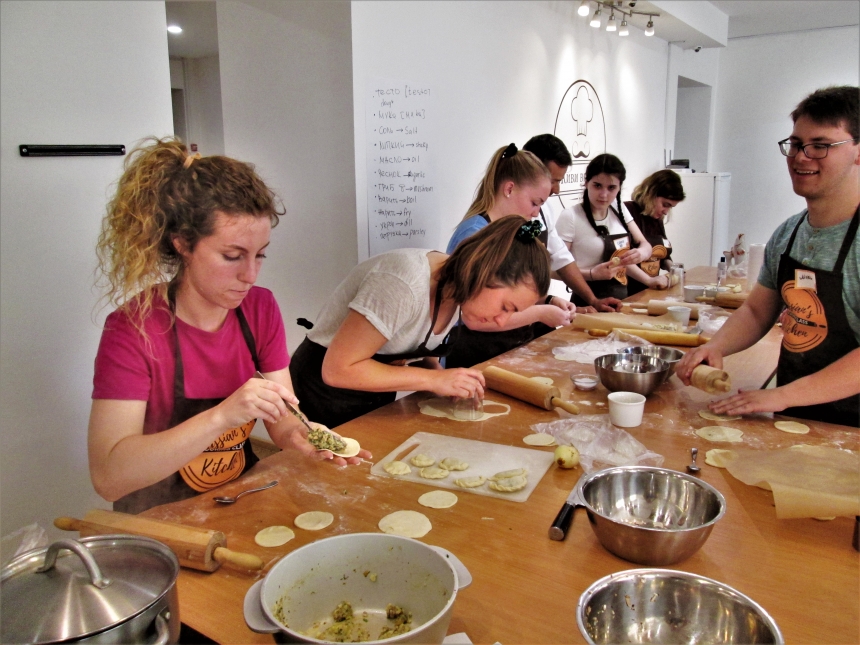 All participants enroll in RUSS 3550 Contemporary Issues in Russian Society and Culture. This course is taught in English and introduces students to the latest developments in modern Russian society and culture. Changes in family life, the relationship between state and society, religion, new trends in cinema and art are among the topics to be discussed. This course can be applied towards the requirements for the Russian major or minor, or towards Core Area IV for students not majoring or minoring in Russian.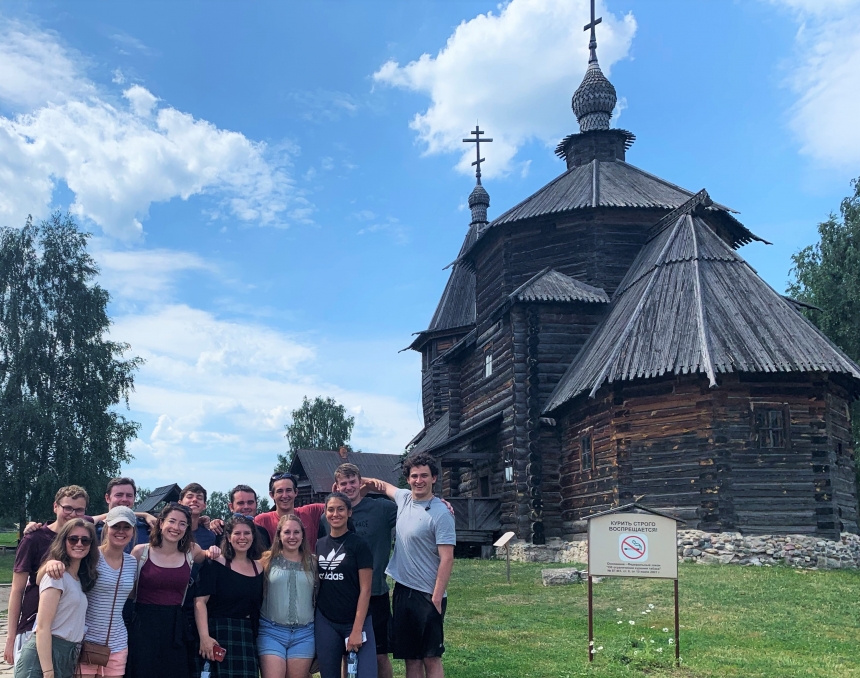 The cultural part of this immersion program includes numerous walking and river excursions in St. Petersburg and Moscow. World- famous attractions such as the Hermitage, St. Isaac's Cathedral, Peterhof, the Moscow Kremlin, Gorky Park, the Museum of Cosmonautics, and the Tretyakov Gallery are among the cultural stops of the program. One of the cultural highlights of this study abroad program is a 2-day excursion to Vladimir and Suzdal' – two cities that are part of the Golden Circle of Moscow, which is famous for its picturesque sites and numerous Eastern Orthodox architectural masterpieces. 
For more information, contact Dr. Olga Thomason.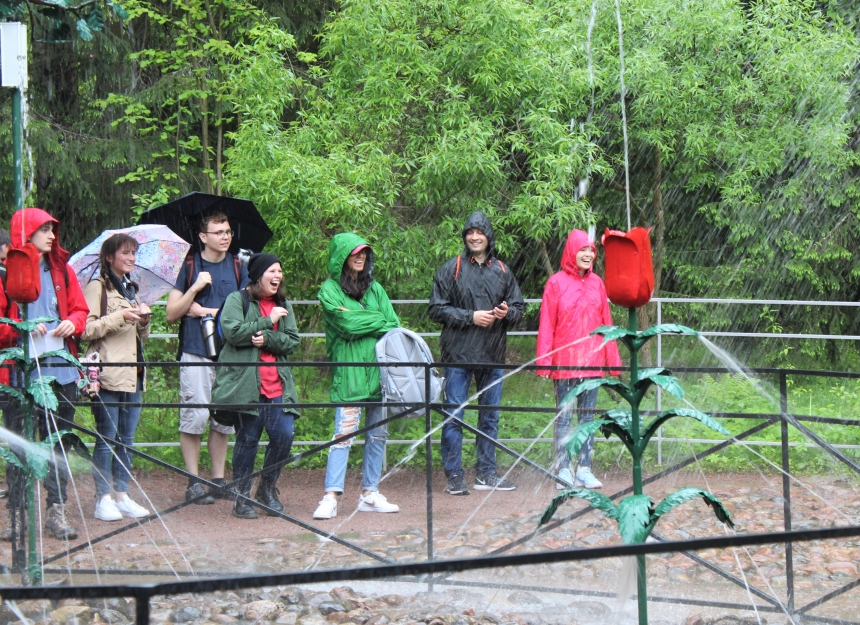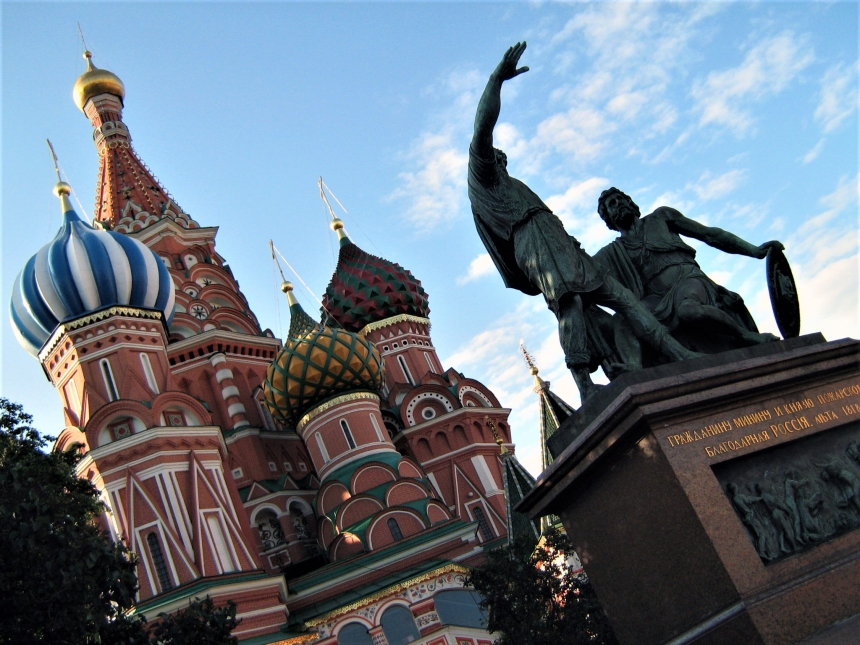 Quick facts for the St. Petersburg-Moscow Study Abroad Program
Dates: May 21 - July 2, 2022: 3 weeks in St. Petersburg, 3 weeks in Moscow
Application deadline: January 10, 2022
Program fee: $2900 (estimated)
The program fee includes: accommodations, ground transportation, group excursions, instructional materials and instructional fees at our partner institutions abroad, international health insurance, and Russian visa fees. Additional costs not covered in the program fee are airfare, food, spending money, and UGA tuition and fees (the HOPE/Zell scholarships or other financial aid may be applied to these).
Application
To apply, visit the Office of Global Engagement page for the UGA Study Abroad Program in Russia and click on the "Apply Now" button. 
Financial aid
The HOPE scholarship can be applied to tuition and other UGA fees for study abroad. Students who have a Russian major or minor are encouraged to apply for a Kicklighter Study Abroad Travel Grant, offered by the Department of Germanic & Slavic Studies. Franklin College and the Office of International Education also offer some financial aid and scholarships. Additionally, the Benjamin Gilman International Scholarship programs offers grants to students with limited financial means.
Franklin College International Scholarship Fund   
OGE Scholarships and Financial Aid     
Benjamin Gilman International Scholarship Program 
Cultural activities included:
The Hermitage
St. Isaac's Cathedral
Peterhof Palace
The Church of the Savior on Spilled Blood
River excursions in St. Petersburg and Moscow
Russian cooking class
Russian food tastings
Subway tour in St. Petersburg
The Red Square and the Alexander gardens
The Moscow Kremlin and Kremlin Armory
The Tretyakov Gallery
The Gorky Park, the Museon sculpture park (fallen monument park)
VDNKh, the Museum of Cosmonautics
3-days trip to Vladimir and Suzdal' (part of the Golden Ring of Russia)