Deutsche höfische Epik / German courtly epic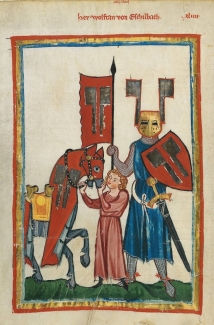 At the center of this course are the two main courtly epics from the classical period of medieval German literature,
Wolfram von Eschenbach's P arzival , an influential version of the Holy Grail legend, and Gottfried von Straßburg's
Tristan und Isolde , one of the iconic stories of forbidden love (both texts completed ca. 1210). Topics we will
explore include the then-new codes of chivalry and courtly love (back when they were socially progressive
ideas/ideals!) and their impact on traditional gender norms and relations; crusade and interreligious conflict, as well
as tolerance; development of a literary language precursor to the modern novel; and the modern
reception/appropriation of the middle ages. The course will also include a review of recent scholarly literature and
foster students' ability to conduct independent research.
(Taught in German. Medieval texts read in modern German translation).